Swedish Innovation Introduces Magnetic Kit with Box Locks, Ending the Horizontal vs. Vertical Game Storage Dilemma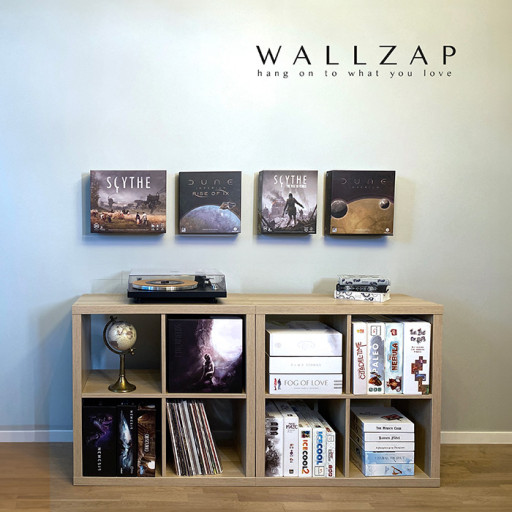 WALLZAP | Wall Mounting Kit & Box Locks
Organize, Display, Re-organize & Play!
STOCKHOLM, October 26, 2023 (Newswire.com) - In the vast realm of board games, a longstanding debate persisted: should games be stored horizontally or vertically? WALLZAP, the brainchild of Swedish innovation, is here to render that debate obsolete. Launched on October 17, WALLZAP brings an unparalleled solution to display and store board games.
Both methods have their pros and cons. Horizontal storage often results in box damage for games stacked at the bottom, while vertical storage may lead to lid drift and jumbled components. With WALLZAP's box locks, part of the wall mounting kit, this debate is settled. The product ensures games can be stored vertically without lid drift or transported horizontally without worrying about internal disarray. Essentially, WALLZAP grants board game enthusiasts the freedom of choice without compromise.
Key features of WALLZAP's Magnetic Kit:
Freedom of Storage: End lid drift with never-seen-before Box Locks, offering versatility in storage.
Transformative Display: WALLZAP does more than just store; it transforms game boxes into visual masterpieces, enriching your living spaces.
First of its Kind: WALLZAP is the world's first company to create a Magnetic Wall-Mounting Kit capable of holding games up to 7.3 lbs.
CEO & Co-Founder John-Aron Windolf states, "We've always believed in merging design with functionality. The WALLZAP magnetic kit exemplifies this, settling the age-old storage debate and transforming game boxes into art."

Creative Director & Co-Founder Philip MacInnes adds, "Our vision is for board game enthusiasts to showcase their collection without compromise, and we're excited to see the community's embrace."

In this era of flourishing board game culture, coupled with the challenges of limited space, the demand for inventive storage and display solutions is on the rise. Stepping up to the challenge, WALLZAP offers a solution that doesn't just meet, but exceeds, the expectations in terms of design, utility, and aesthetic value.

The worldwide board game surge, magnified during the COVID era, resulted in the global tabletop game market being valued at approximately 2.5 billion U.S. dollars in 2021. According to Statista, this market could see an increase of over 60 percent in the forthcoming decade. Kickstarter statistics further accentuate this trend, with board games being a dominant category.

About WALLZAP: Rooted in Sweden's legacy of innovation, WALLZAP AB is a testament to a commitment— a commitment to revolutionizing the board game community's storage and display journey. To discover more about WALLZAP's vision and to back the campaign, visit their official Kickstarter Campaign and connect on Instagram.

Contact Information:
John-Aron Windolf
CEO & CO-Founder


[email protected]


+46763945631


Original Source: WALLZAP Resolves Age-Old Board Game Storage & Display Debate, Gaining Strong Kickstarter Support
originally published at Lifestyle - Sexy Press