Adrien Cotton Offers Clarity with Scientifically Proven Strategies in Online Program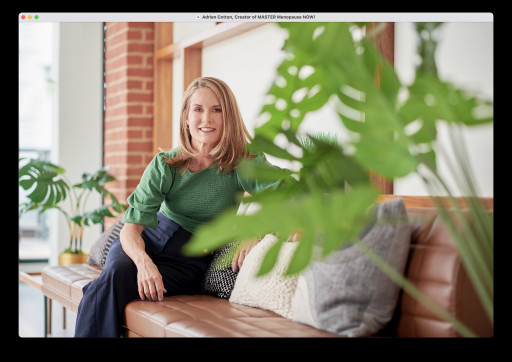 Adrien Cotton, Creator of MASTER Menopause NOW!
Wellness Expert Adrien Cotton created MASTER Menopause NOW! to support women suffering the rollercoaster of perimenopause and menopause.
ALEXANDRIA, Va., November 14, 2023 (Newswire.com) - Women experiencing weight gain, vaginal dryness, sleep disruption, hot flashes, depression, and increased anxiety may add confusion and overwhelm to their midlife discomfort. As many are turning to social media for menopause relief, they can quickly become flooded by the conflicting information and advice. On Instagram alone, there are over 1.5 million menopause hashtags. #Menopauserelief, #perimenopause, and #menopauseweightloss are also trending across platforms.
However, wellness expert Adrien Cotton offers clarity with scientifically proven, time-tested strategies in her new online program, MASTER Menopause NOW!.
Drawing on her decades of experience coaching women through midlife, as well as her own personal journey, Cotton's revolutionary program uses a holistic wellness approach to master Sleep, Stress Resilience, Calendar, Movement, and Food as Fuel – essential elements of midlife women's wellness.
"Because of my struggle, and after working with hundreds of women in midlife, I have dedicated myself to understanding what happens to women's bodies and how to optimize wellness during and beyond this pivotal time," says Cotton.
Using strategies to create small habit changes that result in lasting transformation, MASTER Menopause NOW! includes:
Five Modules with actionable tips for improving the most important areas of women's midlife health
Over sixty videos curated into short segments (most are less than eight minutes)
Workbooks, Reference Guide, and easy-to-follow planner for each module
Movement Toolbox consisting of ten short exercise videos to fit impactful movement into a busy day
Access to MASTER Menopause NOW! Exclusive Facebook Group with live Q&As
Cotton's method challenges conventional wisdom by focusing on strengthening the wellness foundation, rather than restrictive diets and exhausting exercise regimes that can leave women sleep-deprived and overstressed.

"Address these issues early!" advises Michaela Robinson, a small business owner who has participated in the course. "Maybe you're having some sleep disruptions, or recognize other little signs. Adrien's program provides the toolkit you need to to deal with the symptoms when they come in a more significant way."

To learn more about MASTER Menopause NOW! and to register, visit www.mastermenopausenow.com.

###

Contact Information:
Paula Chaiken
Director of Outreach


[email protected]


2676640491


Original Source: Beyond Hashtags: Wellness Expert Launches New Solution for Women Seeking Menopause Relief
originally published at Lifestyle - Sexy Press