Indoor and outdoor theaters, an International Voice Academy, a Pavarotti Museum, and more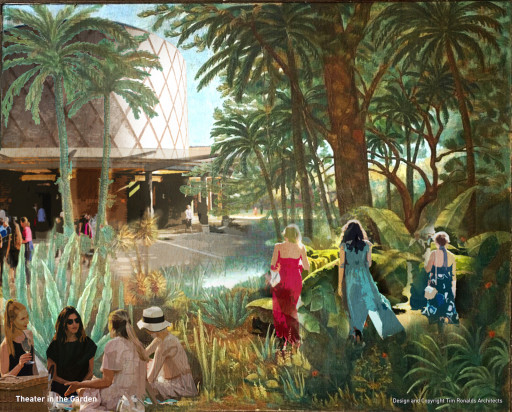 Architectural Rendering of Theater in the Garden
Tim Ronalds Architects' exterior rendering of Theatre in the Garden to be created in Naples, Florida
NAPLES, Fla., November 3, 2023 (Newswire.com) - An international center for the arts is coming to Naples, Florida. Benefiting the lives of exceptional young classical singers from around the world and further enriching the cultural fabric of the Naples community, Theater in the Garden is excited to announce its plans in partnership with the Luciano Pavarotti Foundation.
It is planned to be a multi-purpose space designed to honor the legacy and vision of the world-renowned tenor, Luciano Pavarotti, while also fulfilling the long-standing need for such a multi-use facility in Naples. The property will embrace a 900-seat state-of-the-art indoor theater, an outdoor amphitheater in a landscaped garden setting, the Luciano Pavarotti Museum, The Luciano Pavarotti International Voice Competition, and Luciano's Restaurant. It will be the first Foundation location to be established outside Modena, Italy.
"I am thrilled the Luciano Pavarotti Foundation will soon have a permanent presence in the United States, especially one in a cultural center as rich and diverse as Naples," commented the maestro's widow, Nicoletta Pavarotti. "The city has much in common with many of those in our homeland. Naples has vigorously embraced and encouraged the performing and visual arts from its inception a hundred years ago, wisely seeing them as the bedrock of a cultivated and envied civilization."
The Academy is aligned with the maestro's wish to see the continued advancement of the appreciation of all forms of vocal performance and the support, encouragement, and development of the next generation of exceptional young singers, especially those from underprivileged backgrounds. The Academy will provide students with voice, acting, and diction lessons, and provide opportunities to showcase their talent through public performances.
The state-of-the-art indoor theater and the outdoor amphitheater in the surrounding gardens will be available for use by the Academy and other performing arts groups based in Collier County.
Luciano Pavarotti's theatrical costumes worn during his starring roles in the great opera houses of the world, and posters, photographs, and a lifetime of memorabilia will be part of the Pavarotti Museum as well as other collectibles from his legendary "Three Tenors" and "Pavarotti and Friends" tours, memories from his special friends as film director Franco Zeffirelli, Princess Diana, Frank Sinatra, and collaborations with such pop icons as Sting, Lionel Richie, and U2.
Estimated to cost $25-30 million, Theater in the Garden will serve as a cultural epicenter for generations. It will host various performing arts organizations, providing a place for both artists to showcase their talents and for the community to enjoy the arts like never before in Southwest Florida.
Through Theater in the Garden, Pavarotti's musical legacy will profoundly impact the cultural arts of Southwest Florida and well beyond. Those interested in supporting the development of Theater in the Garden or donating are encouraged to contact Robert Kovacevich, Development Director, at [email protected].
The conceptual team is made up of
Nicoletta Pavarotti, President of The Luciano Pavarotti Foundation
Livio Ferrari, Director of Theater in the Garden Inc.
Robert Kovacevich, Development Director of Theater in the Garden Inc.
Tim Ronalds Architects
Raf Orlowski, Acoustician
The advisory board of Theater in the Garden includes
Joseph Calleja, world-renowned tenor
Teresa Heitmann, Mayor, City of Naples
Iliana Lopez, Founder, Gulfshore Ballet
Ramón Tebar, international concert pianist and conductor, and Cultural Ambassador, City of Naples
Roger Weatherburn-Baker, Corporate Marketing and PR consultant
ABOUT THE LUCIANO PAVAROTTI FOUNDATION
The Luciano Pavarotti Foundation is a non-profit organization with a double goal: to keep alive the human and artistic memory of Maestro Pavarotti through major international events and to support promising young opera singers. For more information, visit http://www.lucianopavarottifoundation.com/en.

ABOUT THEATER IN THE GARDEN
Theater in the Garden was created in partnership between Luciano Pavarotti's widow, Nicoletta Pavarotti, The Luciano Pavarotti Foundation, and a conceptual team. Filling a void in Southwest Florida's cultural and performing arts scene, Theater in the Garden will serve as an international center for the arts and the United States location for The Luciano Pavarotti Foundation. For more information, visit http://www.theaterinthegarden.com.

Contact Information:
Samantha Scott
President


[email protected]


(239) 443-0033


Original Source: Announcing the U.S. Home of the Luciano Pavarotti Foundation and an International Center for the Arts
originally published at Lifestyle - Sexy Press