The top-selling men's grooming brand continues to expand its commitment to its diverse consumers with the launch of three new products as part of the Men of Culture series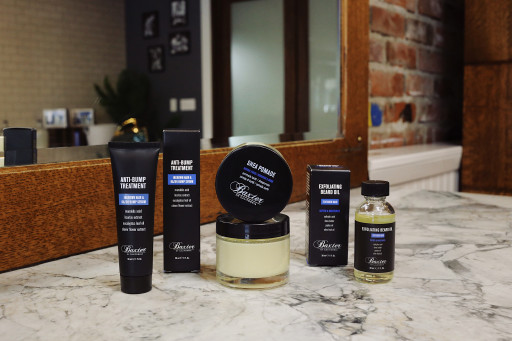 Baxter of California Men of Culture Collection
Shea Pomade, Anti-Bump Treatment Serum, Exfoliating Beard Oil
LOS ANGELES, March 16, 2023 (Newswire.com) - Baxter of California, the LA-based, top-selling 57-year-old men's grooming brand is deepening its commitment to diversity and inclusion in the grooming space with the Men of Culture series and a multi-layered initiative to emphasize its dedication to its BIPOC consumer base.
The Men of Culture series features specialized hair and grooming essentials that are ideal for consumers with textured hair and melanated skin as Baxter of California continues to extend its product offerings. This series includes: Shea Pomade, Anti-Bump Treatment Serum and Exfoliating Beard Oil.
"We've been perfecting the Men of Culture series and are thrilled to finally release it," says Jose Figueroa, Associate Brand Manager of Baxter of California. "This series continues to extend our reach in the men's grooming space with textured hair formulations and specialized grooming essentials, and our product development team has been working diligently to create these three high-performing products."
The three new products are:
Shea Pomade ($24), a rich and moisturizing pomade that is specially designed for coily and textured hair. It is made to easily spread through the hair, highlighting and moisturizing wavy hair textures
Formulated with shea and olive butters that help prevent breakage and bacuri butter that aids in stimulating scalp health and increasing collagen production.
Anti-Bump Treatment Serum ($28), a clear gel formula that quickly absorbs into the skin to prevent and treat ingrown hairs and razor bumps, evening out the skin's tone and helping to soothe and calm the skin.
Formulated with ingredients like mandelic acid to help unclog pores and allantoin to moisturize and exfoliate the skin while antioxidant-rich clover flower extract provides anti-aging benefits.
Exfoliating Beard Oil ($28) moisturizes facial hair and gently exfoliates with salicylic acid to prevent ingrown hairs.
Contains olive and sunflower seed oils that help soften, condition and moisturize facial hair while the salicylic acid works at the skin's level to open up pores to allow facial hair to grow longer and stronger.
The Baxter of California Men of Culture series is available now at baxterofcalifornia.com, Amazon and the Baxter Finley Barber & Shop.

ABOUT BAXTER OF CALIFORNIA

Since 1965, Baxter of California has been a pioneer in understanding and meeting our personal care needs. Our curated range of hair, skin, shave, and body essentials and lifestyle products are all tested by master barbers at our award-winning Baxter Finley Barber & Shop in Los Angeles. Our products are designed for quality and versatility to provide consumers with everything they need to confidently be who they are.

EDITORIAL/MEDIA INQUIRIES: For all media inquiries, including sample requests, please contact Erin Johnson at [email protected]

HIGH-RES IMAGES: https://agencyguacamole.box.com/s/adjbv57807uq1x4j01q2cshmncc1wgul

Contact Information:
Erin Johnson
PR & Influencer Account Coordinator


[email protected]


(310) 878-2560


Original Source: Baxter of California Celebrates Men of Culture With New Series Launch
originally published at Lifestyle - Sexy Press