Members of the Tad More Team are joining the "No Buy New Year Challenge" in hopes of reducing textile waste while saving money and are encouraging others to do the same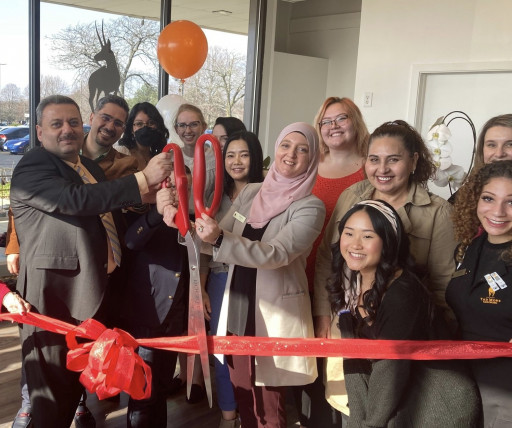 Tad More Tailoring Team

Tad More Tailoring ribbon cutting for opening a new shop.

ROCKFORD, Ill. - January 2, 2023 - (Newswire.com)


Tad More Tailoring is a fashion tech start-up specializing in clothing alterations both online and in person with a mission to reduce textile waste and save the environment. In 2022 Tad More Tailoring performed 23,000 alterations and has set a goal to achieve 40,000 alterations in 2023. Tad More Tailoring invites everyone to join the "No Buy New Year Challenge" in 2023 with the goal of reducing textile waste and saving money. The challenge is precisely what it sounds like: In 2023 individuals who participate will not buy any new clothing, instead focusing on finding new innovative ways to style the clothes they have or thrifting used clothing. 

According to Sarene Alsharif, LDN, MPH the CEO of Tad More Tailoring, "The fashion production industry is the second most polluting industry in the world. Each and every one of us can do something about it by deciding to revitalize the clothes we already have or buying second-hand. With this new year challenge, we hope to show everyone that reducing your fashion footprint can be easy and that by taking simple steps we can have a positive impact on the environment. Beyond that, if the reason that someone isn't utilizing their current wardrobe is due to ill-fitting or damaged clothes, an internet connection gives everyone access to quality, affordable tailors via the Tad More Tailoring website. This enables people to alter or mend the clothes they already have; saving the environment and money all while supporting jobs in USA. It is a win-win-win!"

Here are a few eye-opening facts about why it is important to join the "No Buy New Year Challenge": (source: https://edgexpo.com/fashion-industry-waste-statistics/)
The EPA estimates that over 17 million tons of clothing went into landfills in the United States in 2019, and that number continues to rise.
Second only to the oil industry, the clothing and textile industry is the largest polluter in the world.
Up to 95% of the clothing that ends up in landfills each year could have been recycled.
Let us know by tagging us on Instagram @tadmoretailoring or TikTok @tadmoretailoring if you plan to join Tad More Tailoring and the "No Buy New Year Challenge". You can stay up-to-date on our progress by following us too.

Tad More Tailoring is a fashion tech start-up revolutionizing the tailoring industry by making tailoring accessible to people all over the USA. Now people can save money and save the world by altering their clothes from the convenience of their homes.


Contact Information:
Sarene Alsharif
CEO and Co-Founder


[email protected]


573-673-6411


Press Release Service by Newswire.com

Original Source: Top Tailoring Business Committed to Reducing Textile Waste With Sustainable Resolutions
originally published at Fashion - RSV News